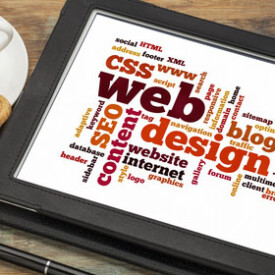 Building your first website
Building a website today is a lot easier than it used to be, one major change is the access we now all have to more ever ready out of the box content management systems.
One platform that has continued to evolve over the years and is now considered the preferred choice by many, is the popular WORDPRESS platform. A content management system that's head and shoulders above the rest.
The WordPress courses I have run in the past have proven popular, and all the information about these locally run courses can now be found on my sister website at www.wordpresswednesday.co.uk or simply give me a call on 07707 225 450 for more information.
Getting Started
Before you even think about building a website you must first decide on two major considerations.
1. The Domain Name:
All to often many people rush this process, finding a great available domain name today is quite difficult, as many of the popular choices have already been snapped up. My advice would be to think long and hard about your domain name choice. If your preferred choice is linked to an existing business name then understandably it should have a generic meaning. However were possible try to keep the name short. There are numerous websites where you can check the availability of your chosen domain, not to mention the prices they charge.
2. The Hosting Package:
It goes without saying that getting your website in front of your potential customers will be your primary concern. Good reliable hosting is without doubt the key factor to any successful website, forget design, seo (search engine optimisation), fancy features, they all mean diddly squat if your website is offline due to bad hosting. Unfortunately no server will be 100% reliable, and the old saying you get what you pay for is quite true. If you think you can get by on Free Hosting you are mistaken, especially if you are building a substantial website that requires database support, e-commerce features etc. So shop around, personally I tend to keep my domain registrations separate from my Hosting, as this gives me more flexibility.
Creating your content
Managing your content is fundamental to your web creation, there are many packages out there that now offer a number of CMS (content management system) solutions. These allow you to edit and create your website via your browser. Simply logging in to your content and editing it at source. Gone are the days for the need of web authoring packages, HTML, CSS, PHP, JavaScript, FTP, etc. However a basic knowledge of HTML is always a bonus, and at times it is always an advantage to know the background to some of the basic functions associated with theses elements of web creation. The courses I run will help you to understand a little bit more of what is under the hood of your website creation.